Document Management System: How it works
The essentials in brief
Document Management Systems (DMS) & cloud based document management are increasingly used for various private or business solutions

Their main functions consist of capturing, structuring, distributing/editing and archiving documents

Many benefits arise from using a document management software - such as reduced time to find a document or costs for storage
Basic questions around the topic of document management
How does it work?
An electronic document management system is the digital and central archiving of all incurring documents. In addition to revision-proof archiving, documents are also managed, starting from their creation. Thus, a professional DMS with automated workflows and corresponding rights management supports the efficient design of company processes. A document management solution accompanies the entire lifecycle of a document: Beginning with the creation and capture, through distribution and processing, to archiving or deletion.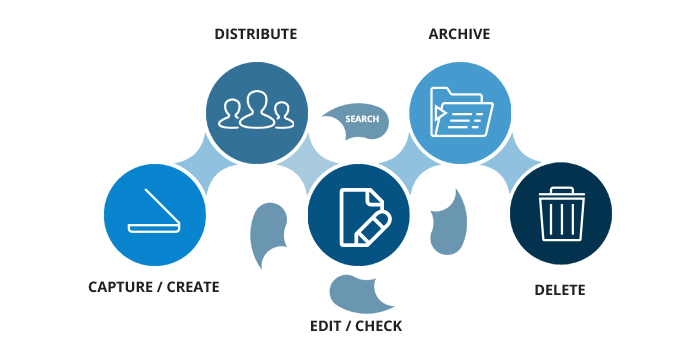 Why do you need one?
Even small companies receive many daily documents - may it be digital or paper-based. Over time, it gets more difficult to keep track of every document. For paper-based documents, the costs of physical paper storage will rise. The search for information or small details on a document are very time-consuming and in some cases even impossible.
This is where a DMS comes into play. With the help of cutting-edge OCR and quick responding servers, you will be able to search details within millions of documents in a matter of seconds. Even better, most of the time you will not need to store the original document. Many DMS are audit-proof, which means there will be an uneditable original file.
Many more benefits arise when using a DMS. For example, you will be able to manage contracts more efficiently and won't miss any deadlines in the future. The system will inform you, when there is a possibility to terminate the contract. Moreover, you will gain transparency in your workspace.
It is possible to keep track of every change which is made by the users. The chance of lost documents will reduce significantly and you won't have to create copies when distributing the documents to other employees. Other advantages are:
Improved control choices and more transparency
There is no requirement for distribution copies
Minimization of errors
Document security is improved, which means fewer documents are lost
What does a document management system do?
1. Document Capture
These days most of the information is available in digital format, but information on paper still exists. While electronic documents can be captured automatically by bitfarm-Archiv, incoming paper documents like invoices, enter the archive through document scanning.
A DMS stores all incoming documents in a central archive for later document retrieval. Therefore, document management systems also act as information retrieval systems. The metadata of these documents is stored in a database. Metadata includes details like creation date, document type, keywords and the contained text. The data can be saved on-premises by a server or within a cloud-based solution. If you are interested in more information on the topic of document capture, feel free to watch our YouTube video (please enable english subtitles).



A key question when introducing a system deals with the amount of information that must be captured, which are "nice-to-have" and which are possibly superfluous and only produce unnecessary maintenance effort. Therefore, when planning, it is important to weigh up the requirements, different opinions, advantages and disadvantages for each type of document and to find a good solution, whereby further optimization is a continuous process that continues even after the software has been introduced.
2. Structured and unstructured information immediately available
By using this metadata, the software retrieves the archived file at any time and gains access to documents for the users. In contrast to file management within the windows explorer, using a DMS to find what you're looking for takes only a few seconds. To ensure this, however, an EDMS needs reliable text recognition and a integrated full-text search powered by a search engine.
With the help of a document management solution, you enable search and retrieval when it is needed. This is the basis of nearly every business process. The faster relevant information is available, the quicker necessary decisions can be made.
The full-text search is the easiest way to search in the DMS and works exactly like the search on google. The more search terms we can enter or the more relevant and clear these are, the more exact our result will be. With quotation marks we search for exact groups of words, a minus sign is a so-called "non-word", which must not appear in the search result. There is also a semantic full-text search with consideration of similarities.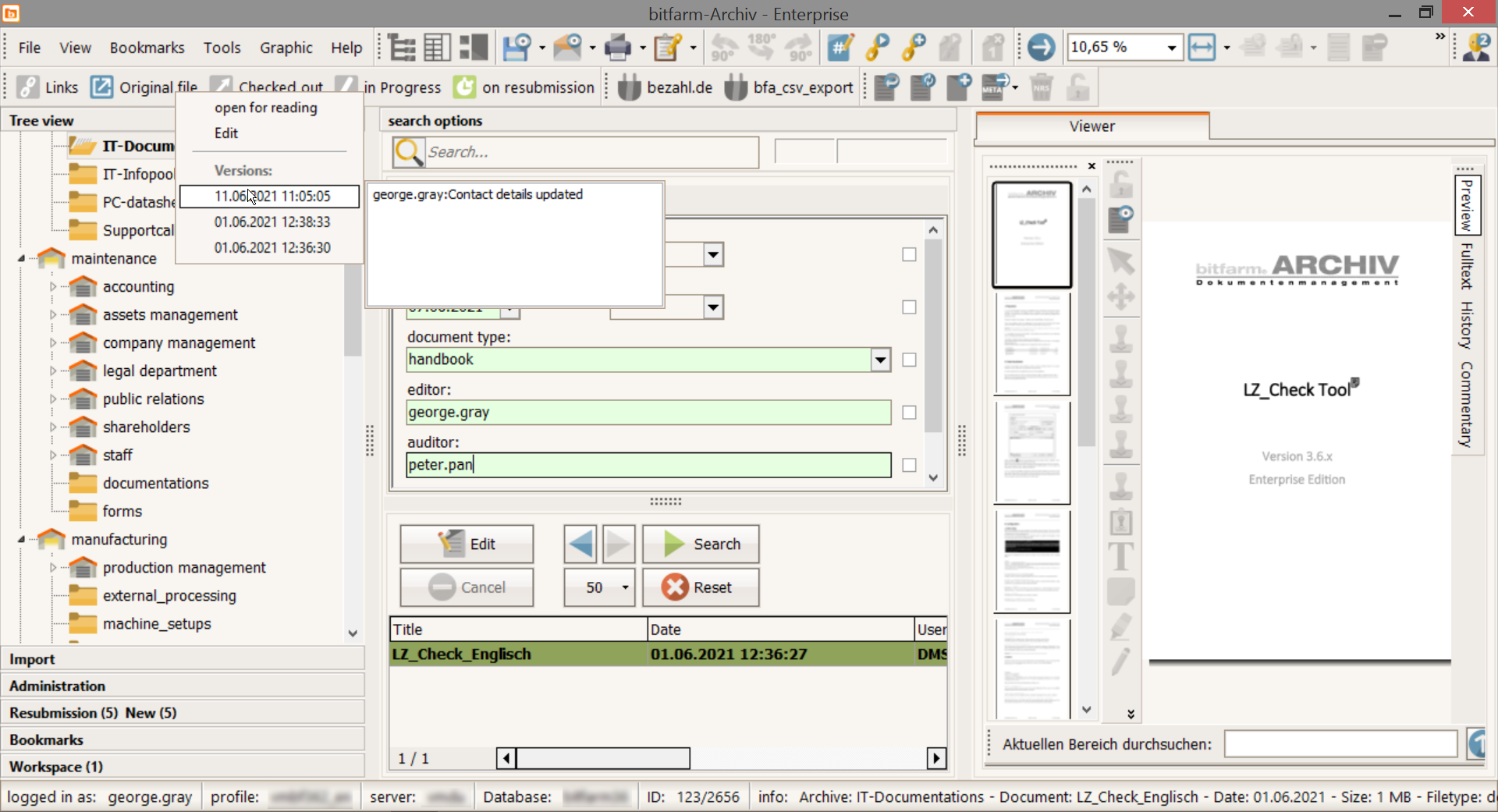 4. Audit-proof Archiving
A modern DMS should also include revision-safe archiving for storage and retrieval. The files are being stored on write-protected document repositories, thus making them unchangeable. To financial authorities, they will have the same status as paper documents, which don't have to be kept anymore for possible audit trails. However, original records like signed contracts should be kept safe because in case of a legal dispute as they could serve as evidence.
Documents from an ERP system require audit-compliant archiving and can therefore no longer be processed in their native file format form after they have been captured.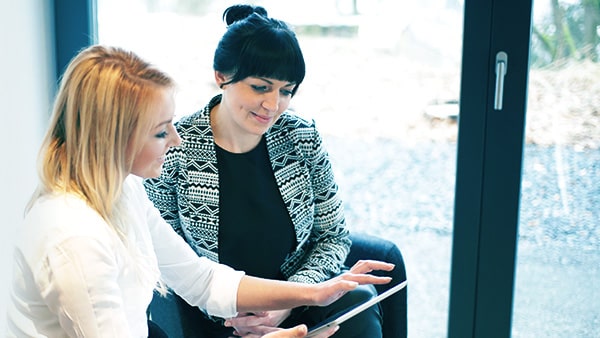 Trivia about Document Management Systems
The first digital archive systems have existed since the early 1990s. At this time, however, the costs for licenses, servers, scanners, jukeboxes etc. were still so high that digital archiving was almost only to be found in corporate environments. In addition, working with digital archives was very time-consuming; all documents had to be indexed manually with great effort so that they could later be found via index masks.
The rapid development of information technology today brings us high-performance servers and large storage space at affordable prices. In addition, there have been text recognition components (OCR) for several years that can recognize documents digitally with high accuracy. This enables a paradigm shift that allows documents to be captured without user intervention and reliably retrieved later.
bitfarm-Archiv DMS, as a representative of the new generation, is using these technologies. Today, due to the progressing developments especially in the open source area, digital archiving and electronic document management can be realized very comfortably and economically in every business.
Further reading: Sources and interesting links
Are you interested in more information around the topic of document management systems (DMS)?