bitfarm-Archiv DMS - Screenshots of the Enterprise Edition
The user interface of our Windows client
The user interfaces of our Open-Source DMS were developed with the aim of optimally supporting users in their daily work with documents. In the past 15 years, we have listened very carefully to our customers. The result is a unique combination of functionality, efficiency and ease of use.
The user interface of the Windows client is classically divided into the structure area, the search and list area, and the display area. It thus accommodates the intuitive software use of many users. The most important control elements are arranged centrally and can therefore always be reached quickly. Functions are available in any context via the right mouse button or various toolbars. The viewer can be operated not only with the mouse, but also almost completely via the keyboard. Experienced users, who have to process a lot of documents every day, appreciate this.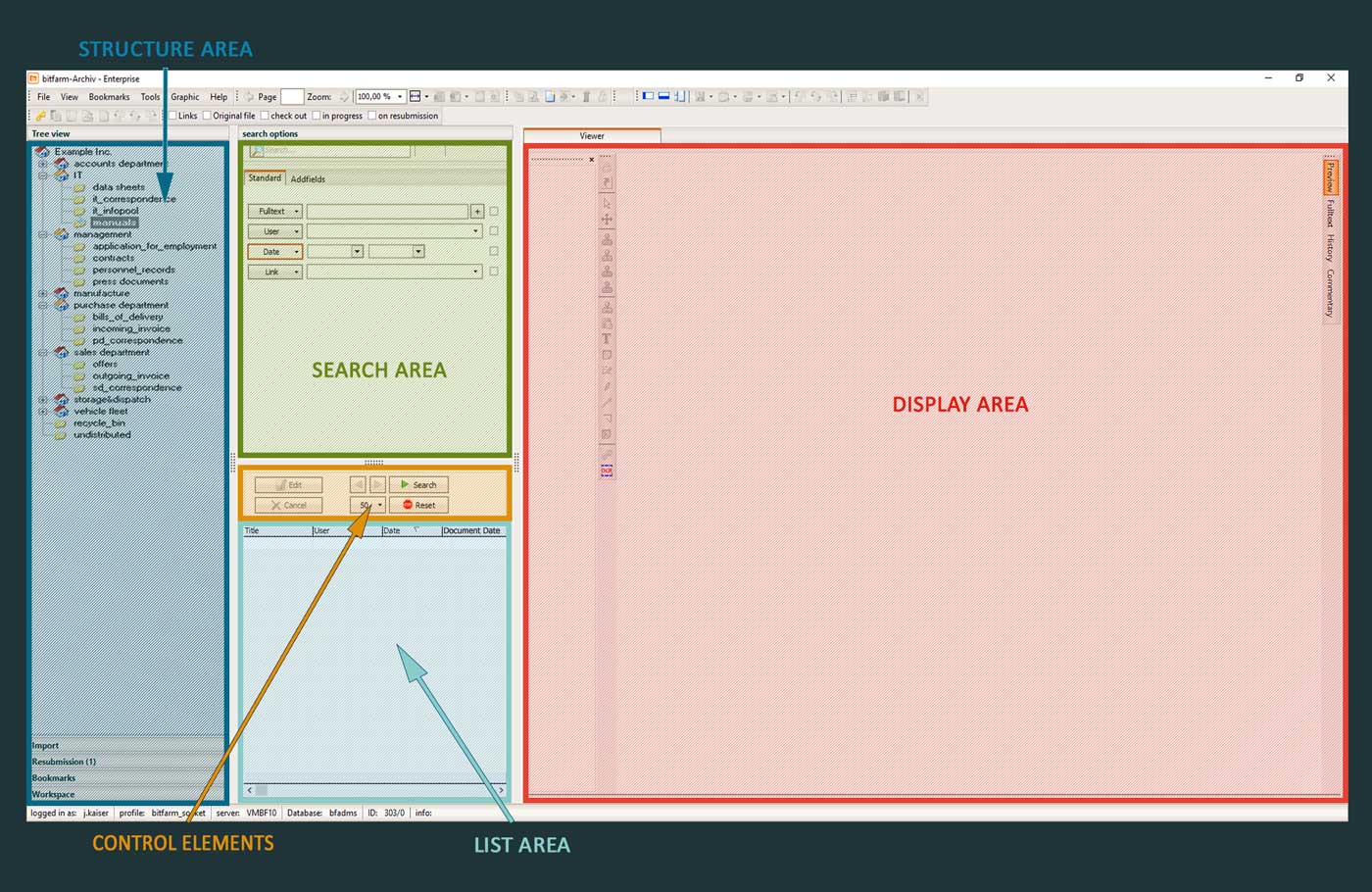 Web-Viewer and bitfarm-Archive mobile
With the Webviewer and the bitfarm mobile app archive, the DMS from version 3.6 on is also available for common browsers and mobile devices and also fulfills the demand for highest efficiency and user friendliness. While the Webviewer has the same structure as the viewer of the Windows client, the layout of the app naturally differs significantly from its interface.
bitfarm-Archiv is characterized by very fast document access. Try to find the right page from several hundred thousand documents using a short phrase or a business number. The DMS does this in less than a second. Also worth mentioning when it comes to fast access: all common document formats are displayed directly and without delay in the main window. Zooming, scrolling, jumping to the next document - all this works smoothly and without interruptions. Try it out, you will be thrilled. bitfarm continues to work on the continuous improvement of the DMS. The direct line to our customers is important to us. At the same time, we are constantly reviewing new technologies that have become available.
Examples of use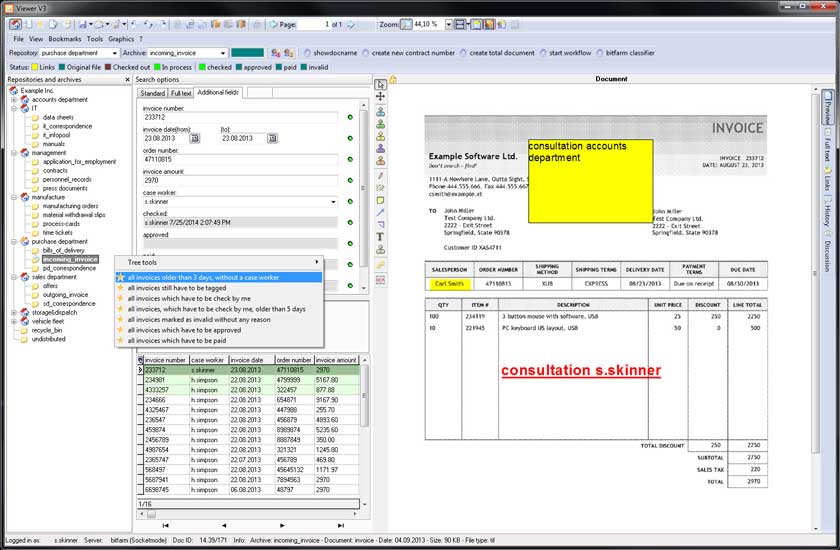 Commercial Documents
In many companies, the archiving of commercial documents, beside the general document archiving, is an important part of the business. On the one hand it is about the revision-safe archiving, the correct indexing and the fast retrieval in case of need. On the other hand also the processing of the documents takes place in the DMS in many enterprises and institutions. Typical here is the incoming invoice workflow, which automatically sends the documents to the appropriate employees and defines tasks such as checking or approval.
In this example, workflow tasks are defined on the right mouse button in the tree and must be clicked by the user. Alternatively, pending tasks can also be actively sent to the user, e.g. by e-mail or as a pop-up in the system tray. Mixed workflow scenarios are also possible, depending on what makes more sense in individual cases.
bitfarm-Archiv Document Management not only captures and archives scanned documents, but also internal documents from the ERP system fully automatically and digitally via a corresponding interface. By the way, the system determines which clerk is responsible with the help of a set of rules that is created individually. The indexing of many documents can also be done automatically.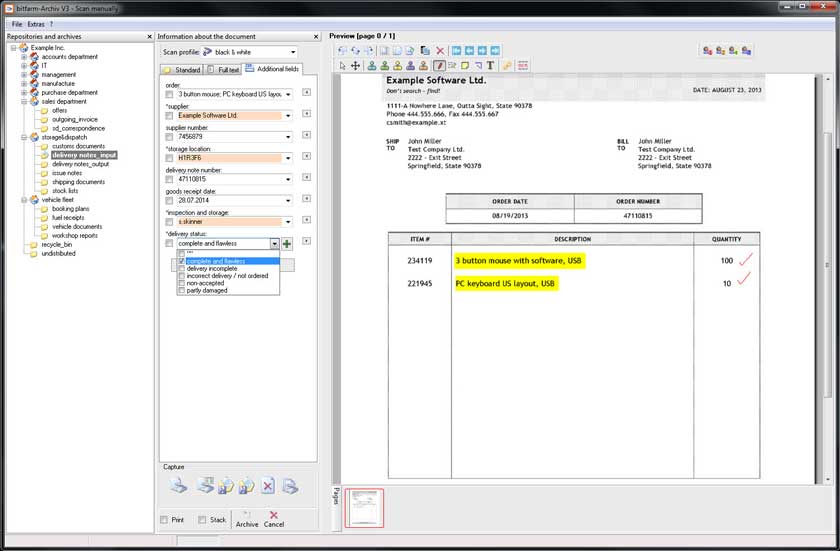 Warehouse / Goods Receipt
It often makes sense to capture documents where they arise. Early capture makes information quickly available to all user groups involved. Documents can be found in the DMS even if they are still being processed. In this example, all delivery notes are recorded as soon as the delivery has been received. Here, the warehouse clerk can immediately provide all important information that is later used in invoice verification. The status of the delivery is configured with a multiple selection field as a mandatory field. The employee can also make several selections at the same time.
Via the delivery note number, the document is automatically linked with the invoice arriving later, so that a clerk can always call up the entire transaction file with one click. This also works with several delivery notes via one collective invoice.
The shipping department also benefits from simple document entry. Receipts and delivery documents from freight forwarders and parcel services are scanned with just one click. Manual indexing is not necessary here, as text recognition makes it easy to find the shipment number again later.
Edit Original Documents
Working with Office documents is an important part of the overall approach of the bitfarm document management system. bitfarm-Archiv offers the necessary tools to create, edit and publish documentation and manuals, contract templates, correspondence, newsletters or other documents.
Versioning as a component of the Enterprise version saves different processing statuses for each document. The call can be made at any time via the "Original file" button and further processing, e.g. in MS Word, Open Office or CAD (for drawings), can take place. As can be seen on the screenshot, older versions can also be displayed in addition to the current version and used as a template for a new document. The brief information shows the current processing status.
Check-in and check-out allow exclusive write access and prevent conflicts. Checked out documents can also be edited via the offline viewer while on the move and later synchronized back into the "live" system.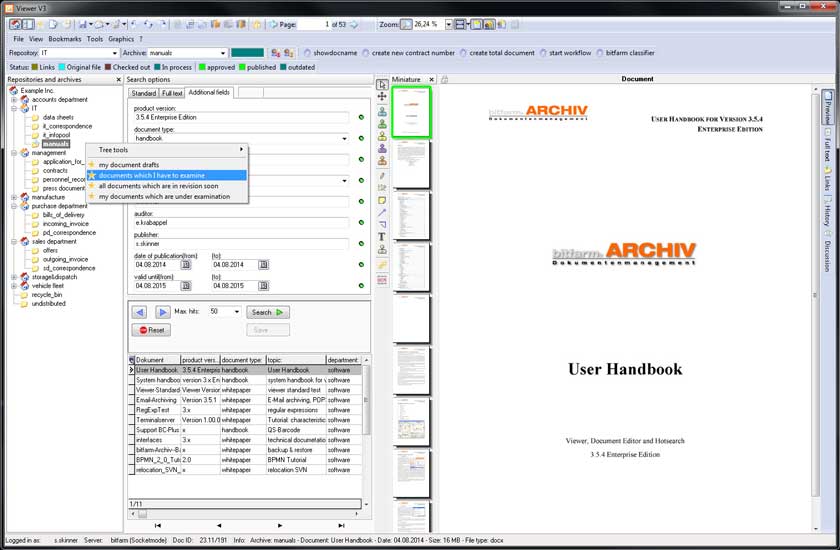 Working in a team
In order to meet QM guidelines, the workflow functions of the bitfarm DMS can be used to implement a 4- or 6-eye principle. Each document must enter an inspection and approval workflow. Example III shows a typical field configuration with which this is implemented. A lifetime can also be defined for documents, and if this is exceeded they become invalid or have to be updated. By means of corresponding queries, each user can see which work is due (example IV.).
WWhile a document is only visible to a small circle during creation and editing, this changes when it is released. Now the document is available for a larger circle and replaces the predecessor document, which can be marked as "obsolete". Only when a new document or a new version has been released is it available for all authorized users.
By the way, the hit list can be freely set up by any user for each "archive". Position, size, columns, filters and sorting are automatically remembered by the DMS, as is the other window layout of the respective user. Lists can be exported to Excel, Open-Office or CSV for further evaluation with one click.
The Resubmission
For task management, different queries (see above) are available not only in each archive and for each user, but the resubmission/task list can also be used to implement document processes. Documents can be placed in your own task list or in the list of other users with a single click. For this purpose, there is a favorites function to forward frequently recurring processes to the corresponding persons by mouse click. Programmed workflows of the DMS automatically fill the task list of the respective users. For example, a change to a document that a user has subscribed to can also lead to this, as can a workflow from contract management or a pending invoice verification and much more.
The resubmission/task list has the advantage that it does not have to be clicked on by the user, but reports automatically as soon as new tasks are due. This even works if the user has not opened the DMS at all - via a tray icon that is loaded when the computer is started. This icon informs the user about new tasks on a regular basis until the user starts the viewer and informs himself about his tasks.
Tasks can also be forwarded. The controller function makes it possible at any time for both the person forwarding the task and the originator of the task to see where it is currently located. If the set time limit is exceeded, an escalation notification is automatically sent to the controller. Absence functions also make it possible to forward the information to deputies in the event of vacation or illness. Alternatively, tasks can also be delegated to groups.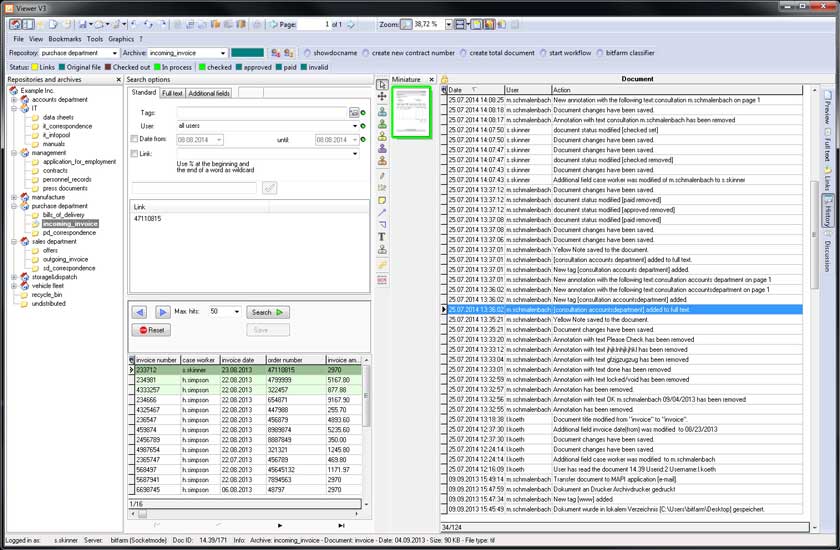 Traceability
bitfarm-Archiv DMS stores an "incorruptible" history of all actions for each document. Users with the appropriate rights can view this history (Example VI).
It shows which user has attached a note or changed field values, who has edited a document, printed it or sent it by e-mail, how a workflow went and even which user has viewed a document (if configured). However, for legal reasons, it is not possible to carry out person-related evaluations (using on-board resources).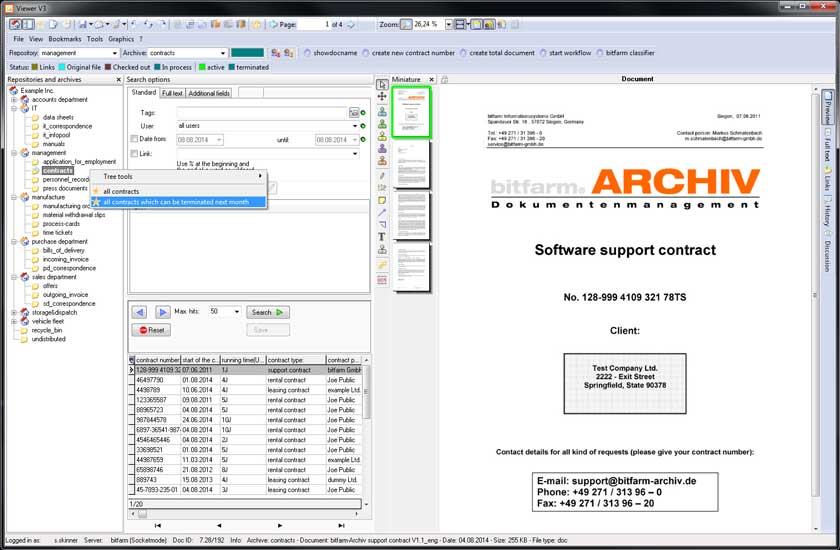 Administration
A typical field of application for bitfarm-Archiv are administrations of all kinds. In companies as well as in public administrations, a wide variety of documents accumulate which have to be stored in a structured and revision-proof manner in the form of electronic files and quickly retrieved. The necessary data and authorization structures can be easily created, copied into sub-areas and inherited.
For contract management, the Enterprise version offers several special functions that record contract data and allow dedicated evaluations. Workflows automatically submit contracts to the employee or group responsible if a possible termination date is imminent. In this way, running costs can be minimized by cancelling contracts that are no longer required in good time.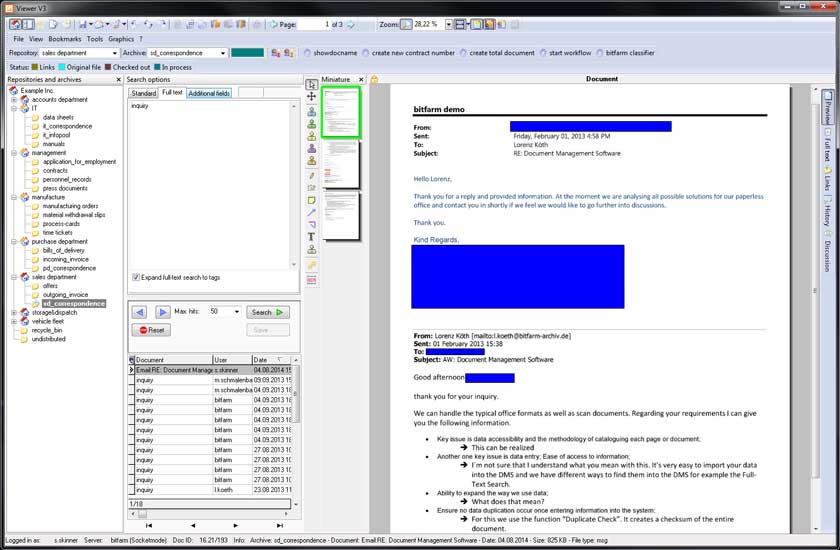 E-Mail Archiving
E-mails are another important form of document that has become indispensable in the business world. They have to be archived just like any other document.
bitfarm-Archiv DMS offers several possibilities for this medium. Order-related e-mails, or e-mails with a project reference, can be entered directly from Outlook into the DMS, for example, and immediately linked to the correct file or project (classification). Automatic e-mail archiving is possible via the server, here the rules of the DMS apply. POP3 accounts can also be directly connected to DMS archives and automatically retrieved.
An archived e-mail is displayed in the viewer like any other document. Similar to Office documents, the "Original file" button can be used to open the e-mail in the installed e-mail program - without it having to exist there. E-mails can then be assigned to processes, projects or files; the same applies to their attachments, which appear as independent documents in the DMS but always remain linked to the e-mail.
Of course, bitfarm-Archiv DMS can not only archive emails, but also send them. Via the MAPI interface this works with all common e-mail systems. Via SMTP, the workflow can also run with e-mail support by sending an e-mail to the respective user parallel to the appearance of new tasks in the task list. Resource-saving DOCID hyperlinks that reference the document in the DMS can be used.
It is possible to make selected areas of a document unrecognizable directly from the viewer. For example, the prices in an e-mail can be blacked out. In addition, documents can be signed and/or stamped and then sent as PDFs.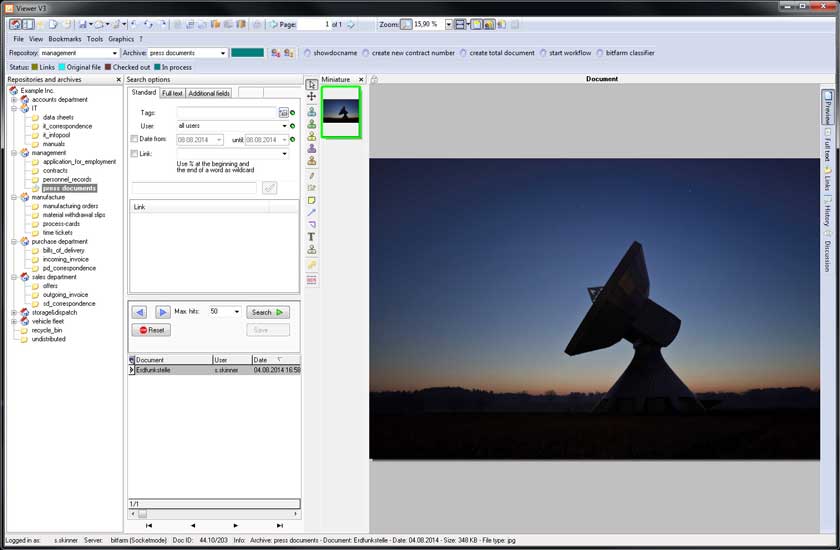 Image Archive
Images and layouts can also be stored in the DMS. bitfarm-Archiv supports not only the common image formats but also a number of formats from the design sector such as Adobe Illustrator.
If necessary, the software can automatically resize images if users unknowingly or accidentally upload very large images from digital cameras. This guarantees a sensible use of storage space. Where high resolutions are desired, bitfarm-Archiv DMS naturally retains them. EXIF data can also be automatically read from images and stored in fields.
Further File Formats
Although they extend the term "document", bitfarm-Archiv DMS can also store movies or mp3 files. For example, an artist agency manages applications, correspondence and performance examples together in bitfarm-Archiv. De facto any file, even executable programs or program code can be put into the system (if the administrator allows it). This is used, for example, in mechanical engineering, where a machine and its documents also include control programs.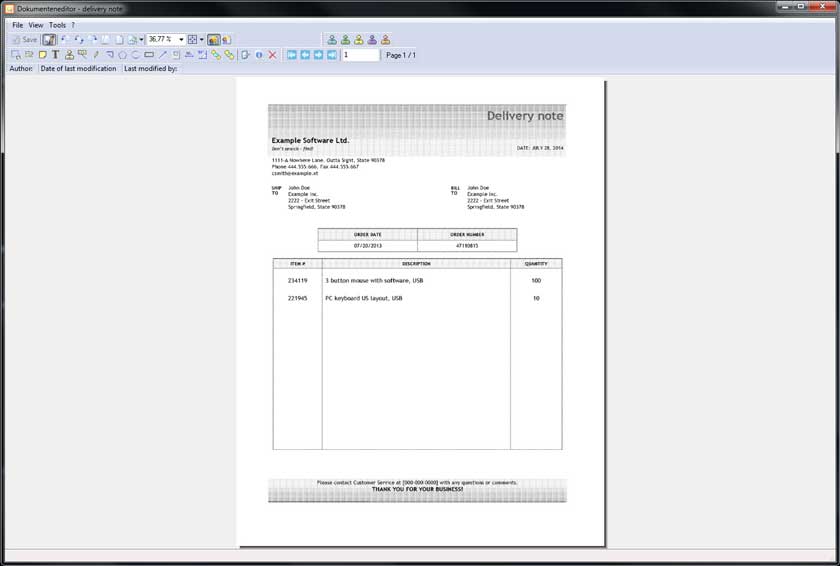 Working With Multiple Documents
If it is necessary to view or edit several documents in parallel, a double-click is sufficient to open the document in a separate window. Here the document can be read in a large view and graphic layers can be edited. The window is independent of the viewer and can be positioned freely, e.g. on a second screen. The position is noted so that documents are always opened there in the future.
Any number of such editor windows can be opened in parallel. The editor also allows access to the "private annotations", a graphical infolayer that is available for every user on every document and cannot be viewed by other users - unless they are invited to do so.
Is there any information missing?
If required, we will gladly send you further screenshots. Contact us by e-mail: info@bitfarm-archiv.de or give us a call. You can also find more detailed information about bitfarm Archive Document Management in our product videos that are only available in german. Or book a free and non-binding presentation of the Enterprise DMS. Within this framework, questions about your individual application scenario can also be answered and some examples configured and tested.