Open Source Contract Management Software: Never miss deadlines
The most important facts in brief
Contracts are a very important part within every company and contain valuable informations

Having an open source document management system to manage these documents will reduce the time for finding informations

Even more, you will be able to keep track of deadlines and save money by canceling contracts which are no longer needed
What to look for in contract management software?
In addition to the administration of commercial and technical documents, Contract Management is one of the elementary functions of a Document Management System. In the Enterprise Version, our license-free DMS offers a range of practical functions, including a free contract management. When searching for a software in order to handle contracts of different types, you should also include these features:
Automatic monitoring of notice periods
Notifications to selected users when cancellation is possible
Creation of contract files
Full text search for quickly finding important information
Most of the times, a better service is available at the same price. But the agreements are usually designed to be automatically extended, if they are not cancelled in time. Naturally the conditions stay the same. Some companies even speculate on this and greatly profit from these "silent" contract extensions.
Many contracts are automatically renewed after a defined term, unless they are terminated. These include rental and lease agreements, subscriptions, fixed-term employment contracts, mobile phone contracts and many others.
Due to the large number of existing contracts, it can be difficult and elaborate, especially in large enterprises, to keep track of the associated terms and notice periods. If contracts that are no longer needed are not terminated on time, they cause unnecessary running costs. This doesn't have to be the case and with the right solution, the business needs can be satisfied.
What is the contract management process within the software?
Based on various parameters - usually the contract date, term and notice period - bitfarm-Archiv calculates for each stored contract on a daily basis whether a termination option is imminent and starts a workflow if necessary.
Contracts are thus regularly submitted to the appropriate administrator or department head / management for a decision on whether the contract should be terminated or must continue.
If a contract is marked as "to be cancelled", an automatic notice is sent to the advisor who then takes the appropriate steps.bitfarm-Archiv can thereofore also act as contract authoring software.
By the way, contract management is supported by extensive reporting functions, which offer evaluations according to various criteria and can be displayed in Excel, for example, if desired.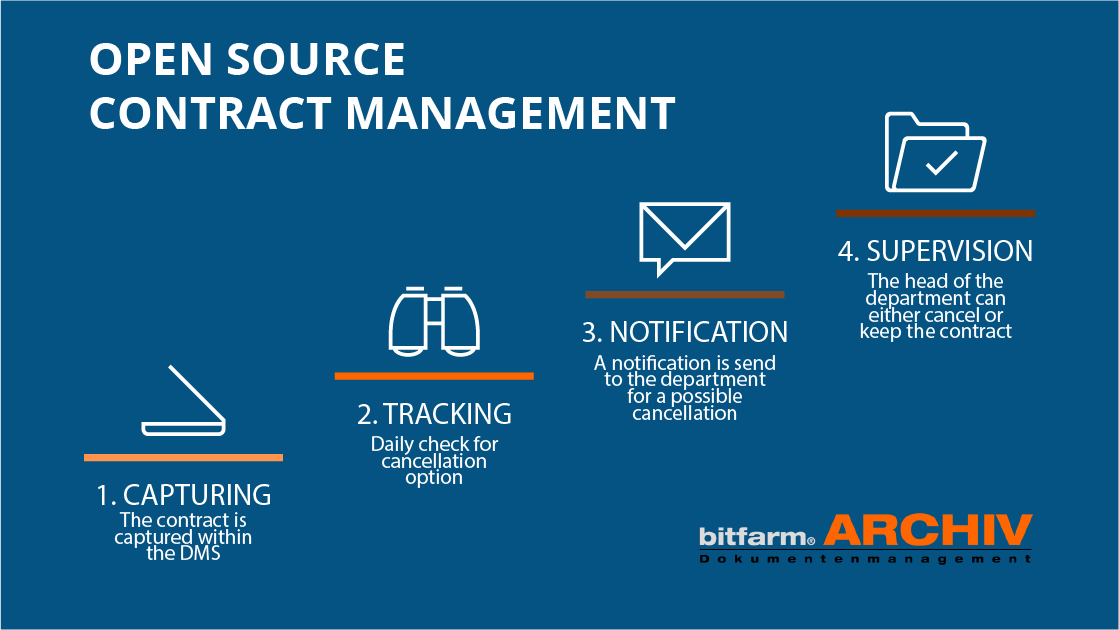 In order to facilitate the overview of liabilities arising from contracts, bitfarm-Archiv provides a tool for evaluating arbitrarily defined periods. The costs incurred in the respective intervals are determined on a daily basis depending on existing remaining terms.
The various document classes are defined as selection fields for the organization of contracts, supplements, cancellations and related correspondence. If desired, new contracts can be assigned a unique contract number by the system, which automatically contains additional information such as location, vehicle, and employee. This contract number is used to link to all other documents relating to this contract in order to implement efficient file management.
If you are interested on more informations around the topic of contract management, we are happy to invite you to our YouTube video series (please enable english subtitles).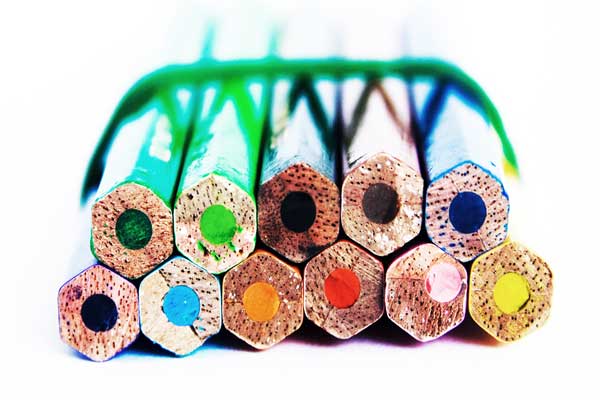 Create contract files
A contract rarely consists of a single static document. Rather, a contract file usually contains additional attachments, supplements, correspondence and termination letters. The administration of contracts is therefore a dynamic process in which it is particularly important that additional elements can be assigned quickly and securely to a contract already in the system. bitfarm-Archiv assigns a unique internal contract number for each new contract.

This contract number is used for all metadata, such as the name of the contract partner, address, date of conclusion, duration, subject matter of the contract and much more. If a supplement is added to the DMS, the user receives suggestions for existing contract numbers on the basis of a few details. The following assignment is a matter of seconds.
Starting from each contract document, the corresponding contract file can be called up completely with one click. Of course, the respective users only see the parts of the contract that they are authorized to access.
► Contact our team for a free live presentation
Further reading: Sources and interesting links
Are you interested in more information around the topic of open source contract management software?
"The bitfarm-Archiv DMS is an enrichment for us. The fact that we can call up contracts quickly and also send them out is innovative both for us as employees and for the company."

Nadine Hnida, contract management, POLO Motorrad.