Document Management - the answer to many questions
In the course of the advancing digitalization of companies, electronic document management is often mentioned as one of the important steps on the way there. But what does document management actually mean? How does a document management system (=DMS) work? And what are the advantages of electronic document management? We will answer some of your questions below. Do you have other or more questions? Give us a call or write to us! We will be happy to advise you.
The Gabler Wirt­schafts­lexi­kon defines document management as the management of documents, which includes the creation, processing, input and output, intelligent distribution, archiving and search of documents. The main objective is to increase labour productivity by reducing throughput times and providing the information you need quickly.
Thus, an electronic document management system should ideally accelerate the processes in the company and thus contribute to more efficiency. But how does a DMS work at all?
How does a DMS work?
Capture / Create

The first station of each document is the capture by the document management system. Paper documents enter the system via a scanner. E-mails or other electronic documents run directly from the respective application into the DMS. To ensure that the documents are stored straight away in the appropriate context, they can be sorted and indexed either manually or automatically (tagging).

Distribute

Many documents, such as invoices or delivery notes, have to be further processed in different departments of the company. A DMS distributes them automatically according to defined workflow rules or manually to the responsible employees.

Edit

The correct processing of the documents can be checked at any time by a controller. In the document history, every change and action can also be traced. In addition, most document management systems provide versioning so that older versions of a document can also be called up at any time.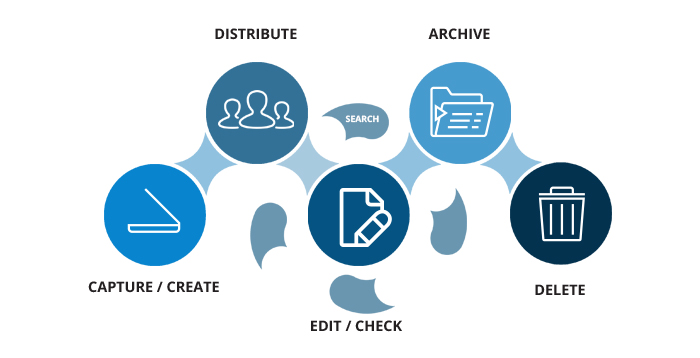 Preserve

An important function of document management is the archiving of documents. Most systems differentiate between audit-proof archiving according to the legal requirements of the GoBD and non-audit-proof archiving of document types for which this is not mandatory.

Delete

Many documents are subject to legal retention requirements, which can vary greatly depending on the type of document. However, legal deletion periods also exist for certain documents, especially for those that contain personal data, such as applications. Ideally, a DMS deletes these documents fully automatically after the deadline has expired.

Information Retrieval

One of the most important functions of an Electronic Document Management software is the search function. After all, document management is supposed to accelerate the provision of required information in the company. In addition it is essential that documents are found fast in the system. Documents should also be accessible even when they are being processed.
What are the Benefits of Document Management for Your Company?
Investing in a DMS can have a positive impact on many business areas. Electronic document management primarily optimizes document and work processes throughout the entire company. The structured filing in a central information pool enables employees to access required information much faster and easier.
Since modern document management systems usually include a function for implementing automated workflows, documents are automatically distributed to the responsible employees. This reduces throughput time and significantly increases the efficiency of document processes. Paper and printing cost savings can be considerable depending on the volume of documents. So you save time that your employees can spend on really important tasks and money that you can invest elsewhere.
In addition, document management improves the quality of processing and customer service, and fewer errors occur. Processes become distinctly more transparent thanks to the uniform information platform and additional functions such as versioning.
As an aside, you comply with the regulations of the financial authorities for audit-proof archiving and save space, since most documents do not have to be stored in the original.