Why should you use an open source document management software?
Generally speaking, using a document management software will help you achieve significant time and effort savings when searching for a document. Moreover, you will need less expensive phstorage since you are legally able to destroy the original paper-based document once it is archived audit-proof. Of course, it is also possible to archive not audit-proof for non critical data. Using a DMS has many more advantages, for instance, a powerful automatic text recognition (OCR) in order to enable multiple search criteria or full-text search.
You can combine these advantages with the benefits of open source-based software. From a monetary point of view, the software is free to use and high charges for closed source solutions can be avoided. In case you still need support: These costs are usually low since the creators of the software are using already existing software components. This economic advantage is passed most of the times to the end user.
Another advantage of an open source document management software is the flexibility. Many companies need a custom solution for their existing ERP, so they can connect the DMS with their company software system. An open source code allows the user to adjust the DMS by himself. No expensive external tools are needed and the user has full control over his system, which results in a safe and reliable architecture.
Summing up, using open source solutions is especially useful for smaller and medium-sized companies. Since these kind of applications can be used for free, there is a low risk for companies when they are just starting out with digitized document management. The need of paying a high amount of money for proprietary software is no longer given, when there are still uncertainties about how it will benefit the own company. Not only companies profit from document management solutions, but also private users who want to organize their records at home for free.
Are you interested in the basic functions of a DMS? Take a look at our video, where we demonstrate simple actions within a system (please enable english subtitles).
Which open source document management systems are there?
The list of software providers for document management solutions is long. Many of these are on the market for several years and are and are constantly improved. Some of the providers are:
bitfarm-Archiv
Krystal DMS
OpenDocMan
SeedDMS
OpenKM
Google Drive
Mayan EDMS
Each one of them has its own advantages and a field of application in which it is specialized. Due to the fact that every company has individual requirements, we do not consider a general comparison being useful.
However, in the next chapter, we will list several factors that will be crucial in almost every company. This should help you when choosing the right system for your company.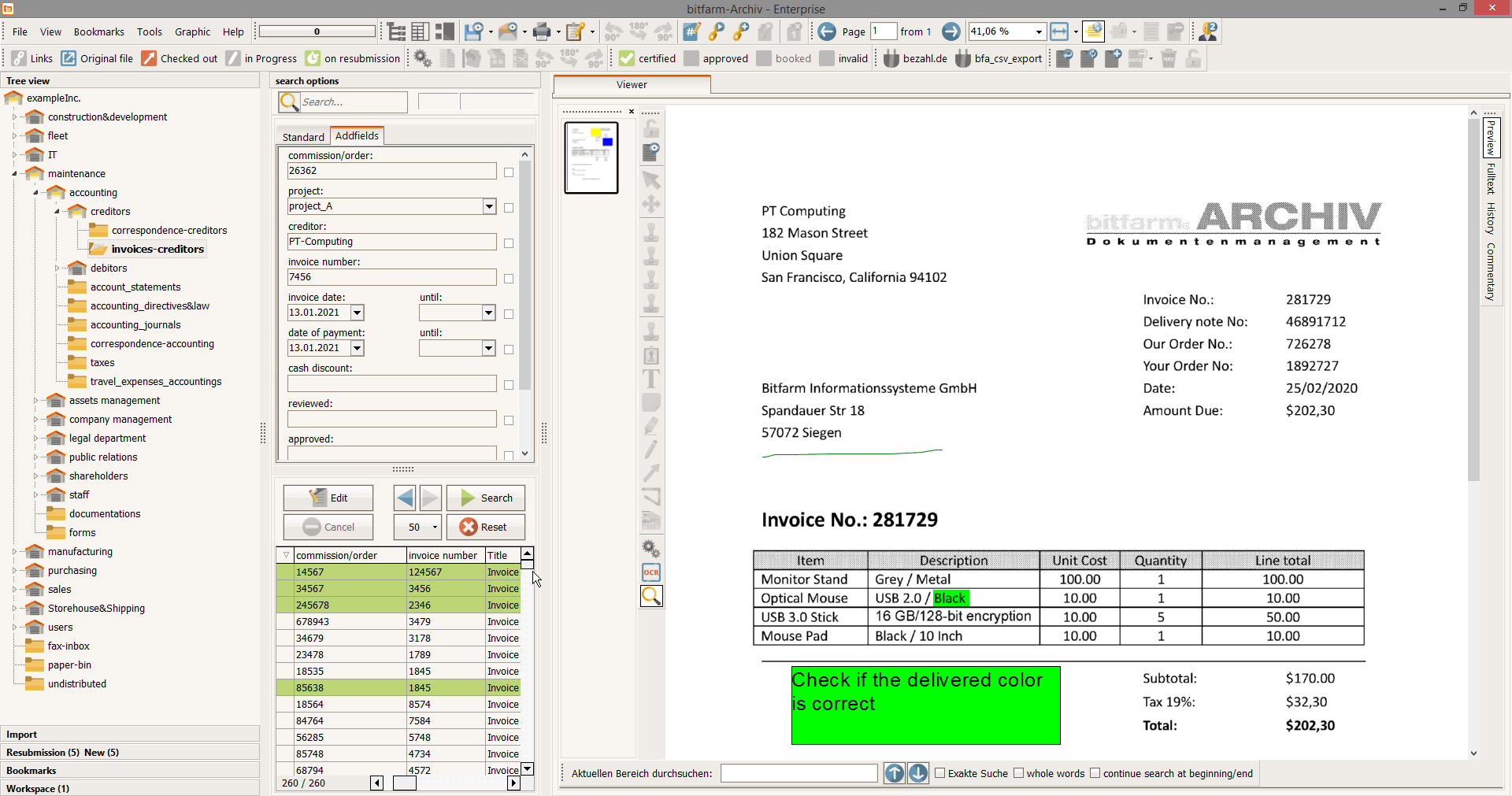 Open source document management system for law firms?
There is a lot of paper involved in tax consultancy or law firms. To get a complete picture, you'll need a a large share of papers, forms, invoices, and proofs. The process differs from mail to mail and can be perplexing. Incoming documents usually include multiple individual steps and takes time.
It takes a fair amount effort to access documents, particularly older ones. As a result, when searching for a more effective approach, the benefits of digital filing are apparent. When all records are centrally stored and can be easily accessed by anyone with appropriate permissions, the information flow inside the firm increases significantly. Documents can also be easily accessed outside the office with the use of smartphones and tablets.
Secure storage of important client documents is a top priority, especially in law firms. bitfarm-Archiv offers audit-proof storage. Many records must be kept or are worth keeping and have to be protected against manipulation. Implementing such a system will therefore help you with many safety regulations such as the GDPdU and GoBD.
Likewise, an efficient file structure is crucial to maintain an overview even with many clients and processes. By using in a file structure, the digital mandate follows the familiar logic of the paper file. You can also browse through digital files, sorted chronologically and an easy to use preview without using external applications or windows.
Furthermore, standardized inbox and outbox workflows reduce the likelihood of missed deadlines and boost workplace productivity.